Zodiac Robotic Pool Cleaners
TX20 Floor Cleaner Only

Key Product Features & Benefits
The eBox control panel comes equipped with a simple one button start and pre programming for optimum cleaning.
No loss of suction power
Captures large debris such as leaves and gum nuts while ensuring constant suction power throughout the cleaning cycle.
Push 'N' Go
Easy and hygienic access to filter canister. Simply press the Push 'N' Go button to release the filter canister handle to remove the filter canister and easily empty debris.
Certified to Australian safety standards
Types of pools: in-ground and above-ground pools with rigid walls
All pool shapes: rectangular, oval, free-form
Coating: Liner, polyester shell, reinforced PVC, painted concrete, tiles (which can be optimised with a tile brush)
Pool size: up to 8 x 4 m
Specifications:
Cleaning areas: Floor
Comes with 200 Micron Filter Canister
Number / length of cleaning cycles: 1 cycle – 2hrs (floor)
Energy source: Self-powered, transformer plugged in to a standard wall socket
Motion: Pre-programmed
Drive system: Caterpillar track
Transmission: Gears
Brushes: Yes
Safety: Beach system, out-of-water safety, electronic motor protection
Filtration system/access: Rigid filter accessed from top of robot
Zodiac TX35 Floor and Wall Cleaner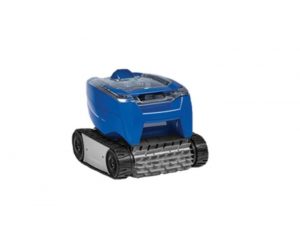 Floor and wall cleaning
The TX35 covers both floor and walls hassle-free during its 2.5 hour cleaning cycle. The front scrubbing brush quickly brushes and removes debris that is stuck to walls and floors.
Transport and Storage Caddy
Easily transport and store the TX35. Storage caddy is easy to assemble with no tools required.
Easy Top-Access Filter Canister
Easy top-access filter canister with large handle. Easy-to-clean filter canister means no contact with debris. Possesses a transparent window to view debris collected.
Effortless Handling
It's easy to remove the cleaner from the water thanks to its large handle. The TX35 is lightweight with the body only weighing 5.5kg.
Please email us at brispoolpumps@bigpond.com or call us at 3398 3838 or 3855 9005 for a price today.