Dontek Controller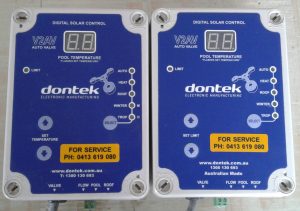 Dontek manufactures a diverse range of heating controllers for the swimming pool industry.
Whether it is an above ground pool or a full size Olympic pool Dontek has the solution.
Many modern pools use solar heating to extend the swimming season coupled with high efficiency heat pumps or gas heaters and Dontek can seamlessly integrate them in the most energy saving way.
For more information please click on our Trouble Shooting Information Sheet.
Davey Rainbank Controller
Features and Benefits;
Made in Australia
RainBank® can allow you to replace up to 40% of your household potable or drinking water usage with rainwater.  Because RainBank® is working all year round you can save water even during winter.
Seamless & Convenient
With RainBank® you dont have to worry about where your water is coming from, RainBank does the thinking for you – automatically.  RainBank® automatically decides to source rainwater first or mains water as back up. Unlike most other systems, even in the event of a power failure, RainBank® can still provide water for your toilet.
Environmentally Friendly
RainBank® only operates the pump to pressurise the rainwater when required.  There's no double handling or re-pressurising of the mains water saving you energy costs. RainBank® doesn't even use power in standby.
Easy to Install
RainBank® can be part of a new installation or an upgrade, mounted on a wall or connected directly to the pump. RainBank® is very easy to install, with three simple plumbing connections, power in and out via three pin plug and socket and a low voltage line to the rainwater tank level sensor.
Please email us at brispoolpumps@bigpond.com or call us at 3398 3838 or 3855 9005 for a price today.