Evolution Chlorinator
Evolution Chlorinators are designed and manufactured on the Gold Coast, QLD!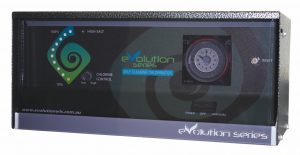 Evolution Chlorinator Features
Evolution salt chlorinators are packed with features that makes this salt chlorinator easy to use and highly reliable.  Evolution Salt Chlorinators are made from predominantly Australian made components which makes them extremely reliable.
Australian Designed and Made
Energy Efficient
Easy to set analogue timer with battery backup.  Always reads real time!
Reverse Polartiy Self Cleaning
Simple to install
Performs well on LOW SALT levels 3500 -4500PPM
Incremental output to help reduce over chlorination
Massive 3 year warranty on the power pack and cell
In general the Evolution Chlorinator is one of our most popular salt chlorinators.   We can generally install them in under 30 minutes, plugging into a 10amp power point they are literally just plug and play.  The salt cell housing is designed for both 40mm and 50mm pipework installs.
The Evolution chlorinator comes in a range of sizes from 15gm per hour up to 35gm per hour which means, it is a more then suitable chlorinator for most pools and spas.
Titanium plates are American made quality.
Ask you pool shop if they know the difference between American and Chinese made!
 Evolution Salt Chlorinator Brochure
Please email us at brispoolpumps@bigpond.com or call us at 3398 3838 or 3855 9005 for a price today.