Rebel Pool Cleaner
Join the two-wheel revolution in the fight against hard-to-clean debris!
The new Rebel cleaner is perfect for thorough cleaning coverage of pools with hard to-clean dirt and debris. Featuring mechanically-programmed, gear-driven, wheels which drive and manoeuvre the Rebel all over the pool floor, up walls and into tight corners, the Rebel bridges the gap between conventional suction cleaners and robotics. It sucks up debris other cleaners miss!
Rebel Pool Cleaner Features
•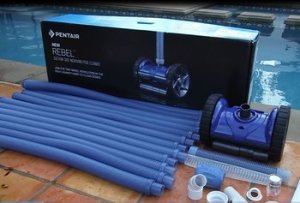 Sure-Flow Turbine— Dirt & debris pass through easily to avoid clogging.
• Advanced Hydraulic Technology — Ideal for use with variable speed or two-speed pumps.
• Dual Action Roller Skirt — Maneuvers up and over obstacles for uninterrupted cleaning.
• Programmed Cleaning Cycle – Assures complete and thorough pool cleaning coverage.
• Compact Footprint — Effortlessly cleans tight corners and pools with 90 degree angles.
• Quick-Release Latch — Top access for easy serviceability.
Rebel Pool Cleaner Warranty
The Rebel Pool Cleaner comes with a limited 2 year warranty.
Rebel Pool Cleaner Price
Call us today on 07 33983838 for a Rebel Pool Cleaner price.  As an authorised Pentair Dealer we have Rebel Pool Cleaners instock and can offer installation anywhere in Brisbane.
Click Here for Rebel Pool Cleaner Brochure
Please email us at brispoolpumps@bigpond.com or call us at 3398 3838 or 3855 9005 for a price today