Zodiac Titan Pool pump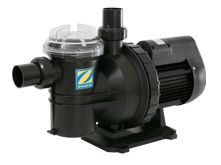 Zodiac's Titan Series pool pumps are a high performance medium head pool pump suitable for small to medium sized residential pools.
A reliable workhorse pump the Titan Series pool pump will provide you with years of service and minimal maintenance.
Energy and Cost Efficient
The Titan Series pool pump is  energy efficient and quiet when in operation.
Suitable for small to medium sized residential pools. The impeller and diffuser have been designed to ensure maximum output with minimum turbulence.
User Friendly
The Titan Series pool pump has been designed with the consumer in mind. Equipped with a clear view easy to remove hair and lint pot lid and a ring lock body design with a ring lock spanner included for easy maintenance. The compact design of the pump also allows it to be installed in confined filtration setups.
The pump is double insulated with an IPX5 motor rating. To ensure the pump does not overheat it has been equipped with inbuilt thermal protection.
The pump also features a moulded base plate providing it with extra clearance from the floor to safeguard it against any potential water damage.
Warranty
Warranty Period – 2 Years
Mechanical Seal – 1 Year
Please email us at brispoolpumps@bigpond.com or call us at 3398 3838 or 3855 9005 for a price today.