Reltech Ecoflo Pumps
Reltech Ecoflo  Pumps V3 & V5 Pro series offers the pool and spa owners the choice of how to run their pumps in the most efficient way possible, dramatically decreasing electricity costs and carbon emissions.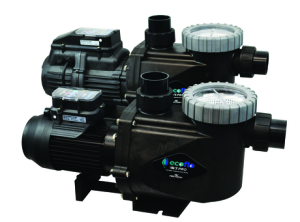 The Ecoflo V3 & V5 Pro utilises a permanent magnet, brushless, fully variable 3 speed, DC motor. The pumps electronic control system allows you to increase and decrease each of the 3 speeds to suit their pool or spa requirements. Essentially the Ecoflo becomes "Tuned" to the pool and spa to save on electricity by running at the required speed to suit you pool's filtration requirements without wasting energy by running the pump too hard.
Being a massive 1.75HP pump means whether you need to backwash, clean/vacuum or filter your pool or spa water, the Reltech Ecoflo Pro will save you time and money whilst minimising your carbon footprint on the environment.
Reltech Variable Speed Technology
Pool filtration takes up to 99% of a pumps usage during the year. However, using Reltech variable speed technology the pool filtration does not require the pump to be running at full capacity. In fact, your pools filtration efficiency improves at a lower pump speeds and flow rates using the variable speed technology provided by the electronic control system and the magnet drive motor.
Operating your Ecoflo at extremely lower speeds also means lower noise levels that allow you to run your pump at night to take advantage of off-peak tariffs, without disturbing your neighbours.
Reltech Ecoflo pumps are manufactured in Australia and are covered by a limited 3 year warranty against materials and workmanship.
Contact us today for an installed price or Click Here to Download the Reltch Ecoflo Brochure
Please email us at brispoolpumps@bigpond.com or call us at 3398 3838 or 3855 9005 for a price today.