Pool Pumps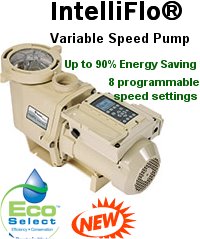 Brisbane Pool Pump Specialists.  Do you need a new pool pump, perhaps you are researching for a new Variable Speed pool pump or a DC pump.  At Brisbane Pool Pumps we have been specializing in pool pumps since 1991.
Choosing the right Pool Pump
Choosing the right pool pump is critical or to your pool filtration system  Choosing the wrong pump may cause your pool or spa system to fail due to things such as, too much pressure or not enough water flow.   The correct size pool pump should deliver the correct water flow to maintain a healthy pool.  If you need more advice about the right pool pump for your pool, call us today on 07 33983838.
Installing your Pool Pump
Whether you are planning to install your own pool pump or have us do it for you, we are happy to offer our advice after your purchase.  Installing a pool pump should be an easy task but it does depend on your pool's filtration system.  Complications can be caused when integrating with automation systems or heating systems.  If you are replacing like for like, it should be an easy process and we are only to happy to offer our services if you need assistance.
For the latest prices on our range of pool pumps and power saving pool pumps, call on 07 3398 3838