Pantera & Leisuretime Sand Filter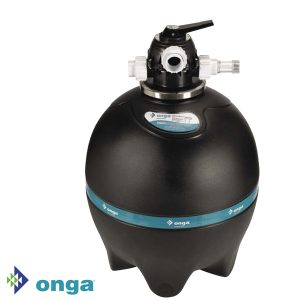 Pantera Sand Filter
The Pantera sand filter is made from UV stabilised polyethylene.
Incorporating the proven Sta-Rite multiport valve and under-drain lateral system, these filters are ideal for small to large domestic swimming pools.
Typical Applications:
In Ground Pools from 30000 to 160000 litres
Large Above Ground Pools
This one piece roto-moulded design is the benchmark for stability, strength and durability. Black by design, not by choice, incorporating increased strength from naturally UV stabilised material.
Designed to give you maximum performance, the water filters down through the entire bed of sand to give superior filtration for sparkling clear water.
Stainless steel filter clamp provides high quality, strength and corrosion resistance.
Ultra low maintenance requirements, coupled with the smooth operation of the multiport valve when rotating through its functions, gives you "as new" operation for years to come.
Total flexibility of operation including rinse cycle, ensuring clear filtration and a waste cycle to allow easy disposal of excess dirty water.
Quick and easy connection and removal of pipe work.
Comes in sizes – 25″ 29″ and 31″
Features:
Seamless filter body
Under-drain laterals
Stainless steel filter clamp
Durable seals and gaskets
6 position multiport valve
Barrel union pipe connection
Large in-line sight glass
Quality pressure gauge
Compatible with sand or  Glass Media
10 year pro-rata warranty.* Terms and conditions apply.
Leisuretime Fibreglass Sand Filter
So Clean, So Clear, So Easy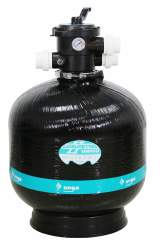 The Leisuretime ll Fibreglass Sand Filter is the perfect high performance sand filter.  It's incredibly simple to operate and maintain, and it's built with long-term reliability in mind.  Plus, it's highly efficient design provides all the clean, crystal clear water your pool requires year after year.  Here's how:
Pool water is routed through the sand-fillted pressure vessel. The sand traps particles so small they are undectectable to the naked eye.  Over time, dirt accumulates in the spaces between the sand particles, causing the pressure in the vessel to rise.  this signals you to "backwash" the filter.  Simply reverse the water flow and "knock out the dirt".
Pool filter operation doesn't come any easier.  The mulit-port valve puts all filter functions right at your fingertips – just rotate the handle to the desired position and the Leisuretime filter does the rest for sure and simple operation.
Features and Benefits
Spun-woven fibreglass construction for exceptional strength, chemical resistance and long life
UV resistant tank
Stainless Steel clamp for corrosion resistance and allows 360 degree rotation of multi-port valve to simplify installation
Top diffuser ensures even distribution of water over the top of the sand bed
Top Mount 6-function 1-1/2″ multi-port valve features a pressure gauge, sight glass and manual air relief for optimum filtration efficiency
Large capacity 25″ and 28″ models are available with a 2″ valve
Internal design ensures that water is exposed to maximum sand surface area for superior filtration performance and efficient backwashing
Please click on brochure to view
Please email us at brispoolpumps@bigpond.com or call us at 3398 3838 or 3855 9005 for a price today.