Pentair WhisperFlo
The Pentair WhisperFlo is our favourite pump to recommend and install for our customers.  We have very few problems with the WhisperFlo pump and in 12 years of selling them have only had to date a few minor warranty claims.
WhisperFlo Pump Models :
WhisperFlo pumps come in 3 convenient model sizes suitable for residential sized pools.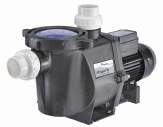 The sizes are:
WF 750 coupled with suggested sand filter size 24-25inches
WF 1100 coupled with suggested sand filter size 26-30 inches
WF 1500 coupled with suggested sand filter size 30-33 inches
Whisperflo is built  to last a lifetime
We call it the Whisperflo pump for good reason.  this innovative hydraulic design moves water more efficiently and more quietly. Under typical operating conditions, Whisperflo offers the highest water flow of any high performance pump-yet with the lowest electrical consumption.
Whisperflo is designed to be a tireless workhorse
Its engineered thermoplastic housing withstands extreme heat and resists corrosion.  The commercial grade motor frame has a rustproof, stainless steel motor shaft and sealed bearings that never need lubrication.  Engineered to provide optimum performance in any size pool or pool and spa combination.
Whisperflo costs less to operate, because it uses less horsepower to produce required water flow.
Special-engineered design assures whisper-quiet operation.
Oversized strainer basket extends time between cleanings
See through lid makes inspection fast and easy.  You don't need 5 strong men to remove the lid. Also the  polymer pump lid remains clear and strong for years to come.
User friendly Cam and Ramp lid is easy to remove and quickly locks in place with a quarter turn.
The best thing we like about this pump is the flow rate.  On numerous installations, we have gone from a 1100w Waterco hydrostorm (one of the loudest pumps on the market at 84 decibels) to a 750w Whisper Flo.  The flow rate has been very similar on the pressure gauge.  Noise is down to 50 decibels (as per manufacturers data)  The best thing is the power savings.  The hydrostorm runs at about 35 cents per hour.  The Whisper Flo  750runs at about 20 cents per hour.  That is a real saving. The WhisperFlo is not star rated, but I believe it should be around the 5 star rating.
The Whisper Flo is still strong enough to backwash the sand filter.  Do yourself a favour and replace the sand with glass beads.  Glass beads in the sand filter tank improves water quality.  Less backwashing is needed and you will see the results for yourself.
Whisperflo pumps are at their best with longer suction runs and when water needs to be lifted.  I don't recommend the Silent Flo in these installations.  Silent Flo is best with short suction runs and at pool water level.  Both the Silent Flo and WhisperFlo have the same motors, but different wet ends and performance.
3 year warranty
Like all our pumps we also give the the WhisperFlo our special free $50 pre service anti rust treatment.
Please email us at brispoolpumps@bigpond.com or call us at 3398 3838 or 3855 9005 for a price today.