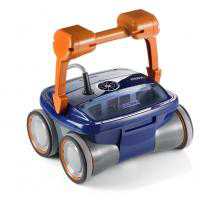 Astral Robotic Pool Cleaners
The Max series pool cleaners are the latest revolution in cleaning technology.
4WD propulsion ensures the cleaner navigates the most difficult pools, while the high speed brush scrubs the pools surface. the self contained inbuilt filters collect large debris and small down to 2 micron, reducing the load on your conventional filter, reducing backwash frequency and saving on expensive chemicals and water top up. Energy costs for your cleaning system will also be reduced to as little as $10.00 per year.
The Max Series Robot Pool cleaners incorporate the smart electronic swivel system to reduce the chance of lead tangling. The Max 5 allows you to optimize the use of your variable speed energy efficient pump because they operate totally independent of the filtration system.
Features & Benefits
Perfect match for energy efficient variable speed pumps
Inbuilt filtration to 2 microns
Saves water
Reduces power consumption
These robotic pool cleaners work with out the need for the filtration pump to be working.  All you do is plug it in to a power point, stretch out the lead and then place the unit in the pool.  These units weigh only  1.9 kgs, so most people can manage to place and retrieve the unit.  This Astral Robotic Max Series cleaner ensures the pool pump does not get clogged with leaves or debris.  So the pump can not run dry due to debris.
Please email us at brispoolpumps@bigpond.com or call us at 3398 3838 or 3855 9005 for a price today