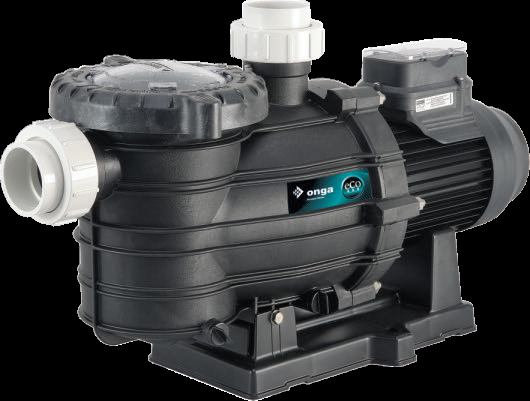 The Onga Eco800 uses an axial-flux, brushless, DC motor which offers high efficiency levels compared with conventional induction motors. Combined with the latest in electronic control, this allows the motor/pump to run at varying speeds. The multiple speeds offered by the Eco800 enable the pump to run slower and consume less energy but still have the ability to run at full speed if required by the application.
Onga Eco 800 Features and Benifits
precision-fit internal components and superior hydraulic design deliver effortless performance, energy savings and extended pump life.
a specially designed sound dampening pump casing and base make pump operation incredibly quiet.
constructed of our durable, thermoplastic, composite resin, so you can be sure it will stand up to the harshest conditions.
a heavy-duty construction and a motor rated for continuous operation make the Eco800 a tough, long-lasting performer.
variable Speed with 3 Programmable Speeds, allows you to effortlessly select the most efficient setting to meet your filtration, cleaning and water feature needs.
the Cam and Ramp™ lid is easy to remove and locks in place with a quarter turn, making inspection and cleaning a breeze. The high-capacity trap holds a large amount of debris, so you clean less often.
quick-disconnect plumbing unions.
Axial flux, brushless, permanent magnet motor delivers high efficiency and low noise levels.
Fault protected motor prevents damage by automatically shutting down the motor in the event of a locked rotor, under voltage, over voltage or over current condition and will automatically reduce the speed during an over temperature condition.
8 star energy rating.
3398 3838 or 3855 9005