Silent Flo Pool Pumps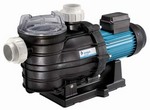 This is our favourite pool pump. The reason is that it is quite, reliable and is more energy efficient, than an equivalent sized pump. Designed to be reliable.
Over the years you will not have the need to be buying baskets and lids or impella's for these pumps. Some brands make these parts in the thousands as spare parts, Not the Silent Flo!
A Silent Flo 750 will perform as well as some other brand pumps rated at 900watt.
Fact – The only problem we face in the field is when installing a silent flo pump, we have to reduce pump size so as not to put excess pressure on filtration.
The good side of this problem is you save electricity! I like to install silent flo pumps with as much 50mm pressure pipe as possible.
This keeps the water flow losses to a minimum and reduces the need for a large power pump.
Run at night on normal electricity tariff or connect up to night rate 31 or 33 and save $100 – $200 a year! Silent flo won't upset the neighbours
A silent flo 750 matches up to a quality P25 sand filter on a pool size of up to 60 000 litres
As Silent Flo 1100 goes well with a P29 sand filter on a pool size of up to 80 000 litres. Three phase motors are available on request.
These pumps have a 12 month parts and labour on site warranty and after this period a further 24 months Onga bench warranty.
FREE: We give these pumps a pre sale anti rust service
Contact us now for an installed price
email: brispoolpumps@bigpond.com
Ph: 07 3398 3838 or 07 3855 9005